True BoxShot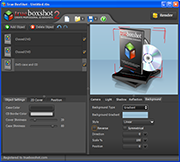 Countless examples serve as a proof that the success of any enterprise depends not only upon the quality of the software but also to a large extent on the method of delivery to end users. If you want to make a good impression on your potential clients and add credibility to your product, then True BoxShot is just what you need. Being easy-to-use and powerful, it will help you to quickly create professional-quality boxshots that will attract attention at a glance.
High-quality results
The advanced mechanisms of True BoxShot produce boxshot images with high precision. The high quality of image filtering with sub pixel accuracy leaves no chance for fuzzy edges, making images look clean and nice. Customizable rendering options allow the selection of the resolution up to impressive 3000x3000 pixels and saving of images in a variety of popular formats, including .jpg, .bmp, .png and .gif.
Bunch of features
The program comes with a set of predefined templates, allowing you to create 3d images of software boxes, CD/DVD cases, screenshots, or member cards based on 2d images instantly. All of the models have adjustable width, height and depth and can be easily reshaped, rotated and moved. You can also change the perspective of an object and add some nice special effects.
Easy to use
Despite it's features, True BoxShot is so easy to use that anyone can obtain professional-quality results. Rendering is as simple as moving a slider. A real-time preview window provides instant feedback when you make adjustments, so you can quickly obtain the results that you want. Once you are satisfied with your adjustments, you simply Rendering a button and True BoxShot will create the output image.
True BoxShot will give you a good deal by providing a professional image to a product. Sleek 3D boxshots will make your product stand out from similar software, so don't miss this chance!